About the Photographer
Biography
I was born in Philadelphia, Pennsylvania, but grew up in New York City. I earned a degree in Electrical Engineering at The City College of New York and have worked in the satellite industry my entire career. I first got interested in photography as a young adult, when I took a cross-country car trip, and took photographs in several national parks along the way. I toured the Badlands of South Dakota, Mt. Rushmore, Yellowstone National Park, Glacier National Park, the Grand Tetons, and into Oregon's Crater Lake. My interest in photography grew when I moved to California in 1977 and set up my first darkroom, in a bathroom. I eventually built a large, fully equipped darkroom to handle 4x5 negatives, in 1983. Moving to California has allowed me to be close to many national parks in my state as well as in surrounding states, where there are many great places to photograph.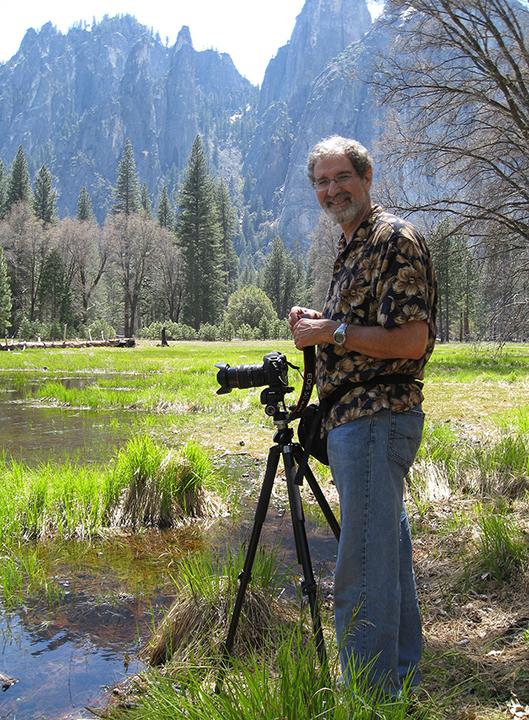 Roger photographing in his favorite place: Yosemite Valley
Artist Vision Statement
​My photography is an extension of my desire to communicate to others the beauty I see in the natural world, and my love for nature, unspoiled by our modern civilization. This unspoiled landscape is rapidly disappearing, and I think that we should be reminded how incredible the world is, and my images are my part in informing and communicating this to others. In a selfish vein, my images are my way of remembering the great feelings I had when I took the pictures, and what it felt like to be out in the cold morning air, or in a rain with lush green vegetation all around me. The exhilaration I felt when I took the pictures is what I try to capture in my photographs. If others can have the same sense of my excitement when they see my images, then I think I have succeeded. I want to make photographs that show how wonderful the world still is, and that we should do all we can to preserve and renew it.
My Process
My passion for photography began in 1974 using a 35 mm film SLR camera. I did not like the results I was getting using Fotomat to print my images, so when I moved to California in 1977 I built a darkroom in my garage and started printing photographs myself. I graduated from a 35 mm camera to the 4x5 inch negatives used by a view camera. As my camera capabilities increased, so did my darkroom capabilities.
I had to use enlargers that could handle the large negatives and trays that could make large prints. So in 1988 I built a large darkroom in my home.
Then came the digital revolution... I tried early digital camera, but they could not produce the image quality I was accustomed to from my large format negatives. By 2006 digital cameras improved their resolution and noise limitations, and thus became usable for making fine art prints up to 18x24 inches. I purchased a high resolution, full frame DSLR camera in 2009. I now use the Fuji medium format 102MP camera.
As digital photography became more popular and film and darkroom paper became more scarce, I took up Adobe's Photoshop for image control and digital printing. But I still wanted to print my 4x5 and other film images digitally, so I purchased a professional scanner, the Epson V750 Pro scanner. This scanner could scan my negatives at a high enough resolution, with minimal noise, so that the image files could be printed with a digital printer. I scan the 4x5 negatives at 2400 dpi or 3200 dpi at 16 bit color depth and get a file that is the equivalent resolution of a 180 MP camera! These files can be printed at 300 dpi up to 32x40 inches without enlarging the file.
With a digital camera, the camera takes pictures in color. I can then decide whether to convert the image to black and white images or leave them in color. This has changed the way I make black and white images, as I used to have to try to "see" my images in the field as they would look in black and white but with a digital camera, I convert the image later in the process, when I am at the computer.
With either my scanned film images or my digital camera images I use professional inkjet printers that can produce archival (can last for 75 years without fading under normal conditions) images that have the same qualities as my darkroom prints have.
My digital printers are the Epson 3880 and P900 for smaller images, and the Epson 7890 for larger images.
These printers produce images with good clean whites, and deep blacks, similar to my darkroom silver-emulsion prints, and they also have vibrant, natural looking colors. I use a Spyder color calibration system to calibrate my screen and prints in order to produce natural looking landscapes.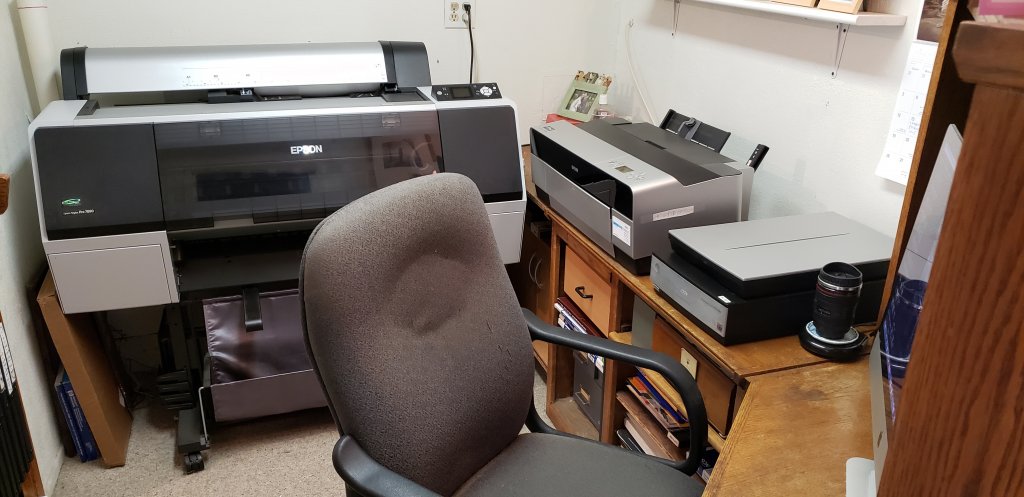 I use two Epson printers, the 3880 and the 7890. I scan my 4x5 negatives with the Epson V750 Pro scanner.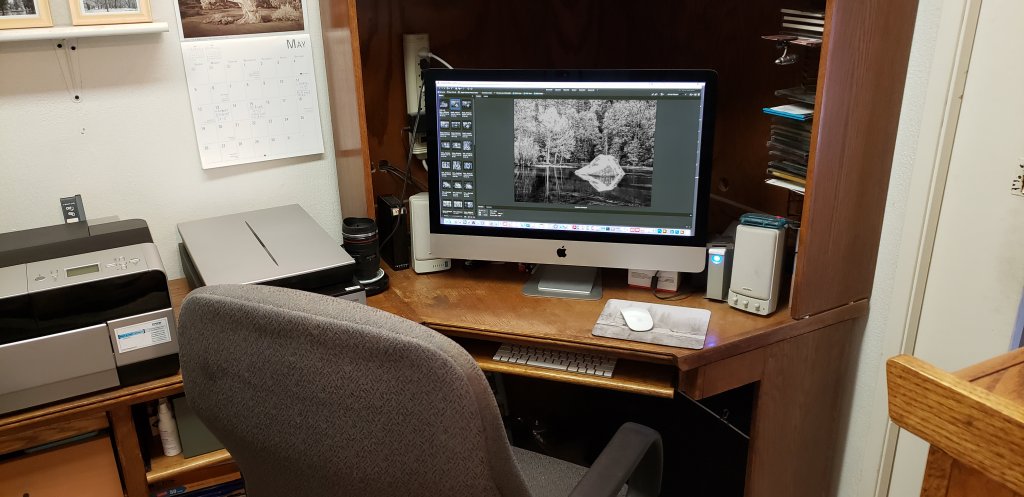 This is my IMac 27" with a 5K screen.
Galleries and Shows
I have had several one-man shows in fine art galleries in the Orange County and Los Angeles areas, including the Forest and Ocean Gallery in Laguna Beach, the Huntington Beach Library, The ArtiSan Juan Gallery in San Juan Capistrano, The Center for Creative Photography, also in San Juan Capistrano, and the "Off the Wall" gallery at Cypress College. Most recently, I had a one-man-show at the Center Gallery in Anaheim. I also have been part of group shows at the Art Museum in La Habra, the Irvine Fine Art Gallery, Chemers Gallery in Irvine, and at the Borders Book Store in Mission Viejo, CA. I have been in the Laguna Beach Art-A-Fair in 2012, 2013 and 2018. I also have been in the Laguna Beach Festival of Arts in 2014 through 2017 and in 2019-2022.
See the page on the Festival of Arts for more information.